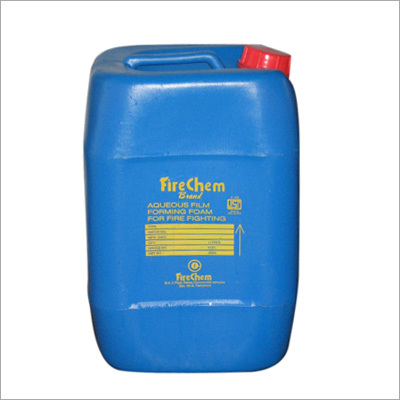 AFFF Foam Concentrate
Price And Quantity
Kilograms/Kilograms

50.00 - 200.00 INR
Product Description
AFFF Foam Concentrate (Aqueous Film Forming Foam Concentrates)

AFFF foam concentrate that we are providing is suitable for the overflows to jet combustibles. Alongside, it is additionally utilized to inhibit the petroleum combustibles, which are hard to combat. Obtainable in various sorts, grounded on their solution, our product is a fluid film to remove the oxygen provision to the combustion, subsequently stopping fire.
Benefits:
Fantastic blaze back execution

Gives premium deplete time

Least application rates
Additional Details:
The provided Aqueous Film Forming Foam (AFFF) concentrate is useful in rapidly putting a conclusion to the blaze, giving unrivaled smolder back execution, deplete sort and less usage rates. Hydrocarbon and fluorocarbon surfactants are blended with a few different additives and solutions for the making of the product in a precise way. Our product possesses the ability to deliver vapor-fixing layer, which rapidly spreads above the fuel base to in a split second give a regulation over flame.
Our customers can acquire the product in different kinds like Type 3%, Type 6% and Type 1%.
AFFF foam concentrate comprises of hydrocarbon and fluorocarbon mixed with different solutions and additives. It delivers a vapor-fixing watery sheet that spreads quickly across the combustion surface to give fast control and douser. It is accessible in three unique sorts:
Class 1% - Fire Chem AFFF 1% is utilized at a corresponding rate of 1% AFFF and 99% Water. They are composed particularly for Class B hydrocarbon fuel flames, for example, rough oils, gas, diesel fills and avionics powers.

Class 3% - It gives an extensive variety of AFFF froths solution. AFFF 3% froths are extremely adaptable in nature and stifle the fire quickly. They are exceptionally proficient and in addition sensible too.

Class 6% - It stifles the fire quickly and is extremely perfect for application in powder or froth sprinkler systems.
Specification:
PRODUCT
AFFF 1%
AFFF 3%
AFFF 6%
AFFF FREEZE PROTECT
USE CONCENTRATION
1%
3%
6%
1% / 3%/ 6%
SPECIFIC GRAVITY
1.03 ± 0.02
1.01 ± 0.02
1.01 ± 0.02
1.06 ± 0.03
pH
7.5 ± .5
7.5 ± .5
7.5 ± .5
7.5 ± 0.5
VISCOSITY @ 20ºC
< 10 CST
< 10 CST
< 10 CST
< 10 CST
SUSPENDED SEDIMENT (V/V)
< 0.1 %
< 0.1 %
< 0.1 %
< 0.1 %
FREEZING POINT
-2ºC
-2ºC
-2ºC
-31ºC
POUR POINT
-1ºC
-1ºC
-1ºC
-30ºC
STORAGE TEMPERATURE
+1.7ºC MINIMUM
+50ºC MAXIMUM
+1.7ºC MINIMUM
+50ºC MAXIMUM
+1.7ºC MINIMUM
+50ºC MAXIMUM
-29ºC MINIMUM
+50ºC MAXIMUM
FOAM EXPANSION
LOW > 7
LOW > 7
LOW > 7
LOW > 7
25% DRAINAGE TIME
3 MINUTES
3 MINUTES
3 MINUTES
4 MINUTES
Trade Information
If order is confirmed we will reimburse the sample cost

20/30/200/1000 LTRS CONTAINERS