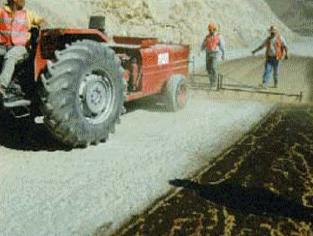 Dust Suppression Chemicals
Price And Quantity
Piece/Pieces

1000.00 - 10000.00 INR
Product Description
We have formulated Dust Suppression Chemicals to suppress and compact the dusts that are present at haul roads and coal-ore handling plants. These are also used in areas like copper ore / coal ore handling plants, crushing plants and at loading-unloading points. Our chemicals provide better solution than the usual method of spraying plain water, as it is just a restricted solution.
Plain Water Spraying Provides Limited Solution
In the discussed scenario, water simply carries away the coal dust with its flow – it does not wet and bind it. Upon drying of water, the coal dust accumulates in the new place and poses health hazards. In haul roads, it results in creation of mud that gets stuck to undercarriage of automobiles, consequently posing problems in terms of maintenance, wear and tear. Adding on, if water is to be used to curb the dust, huge quantities are needed for it. A very high amount of water washes away the fine coal ores as well that results in losses.
Assets of Spraying Dust Suppression Chemical
Years of research has allowed production of material that when combined with water yields outstanding results.
Perfect solution that eliminates all the aforesaid limitations of plain water.
Reduces the water's surface tension significantly which means that water actually "wets" the dust by penetrating it.
It requires very less quantity of water
In haul roads, use of dust suppressants compacts the dust onto road surface. Just periodic topping up-retreatment is required for desired results.