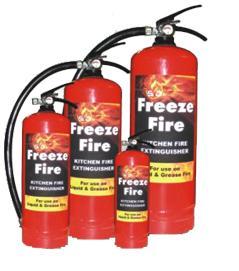 Kitchen Fire Extinguisher
Price And Quantity
Piece/Pieces

1000.00 - 10000.00 INR
Product Description
One of our popular product – Kitchen Fire Extinguisher – is offered in brand "Freeze Fire". This is a wet chemical type extinguisher that has proven effectiveness on fires in ventilation equipment installed in restaurants. These are also effective on fire in various boilers, range tops, griddles, ductwork, hoods, fryers and other cooking appliances. This special product, when sprayed onto fire, delivers excellent flame knockdown along with features of securing fire and surface cooling. Upon contact with hot grease, the agent present in the extinguisher creates a foam-layer onto the fat's surface. This layer is like a soap blanket that acts as an insulator amidst atmosphere and hot grease, hence keeping the flammable vapors from escaping and consequently minimizing the possibility of flame re-ignition.
The agent present in Kitchen Fire Extinguisher has low level of pH, which makes it compatible with almost all metals generally used in restaurant's kitchen, such as aluminum, brass, copper, galvanized metal, mild steel and stainless steal.
Precautions
When handling the agent, take adequate care.
In case, the agent comes in contact with skin or eyes, immediately flush with water.
In case, the agent is swallowed, take milk or water to dilute it and immediately contact a physician.
Properties of Kitchen Fire Extinguisher:


| | |
| --- | --- |
| Appearance | Color-Coded Fluorescent Green |
| Storage Life | 12 Years |
| Refractive Index | 1.404 |
| Freeze Point | -40 °F (-40 °C) |
| Boiling Point | 230 °F (110 °C) |
| Specific Gravity | 1.32 |
| Viscosity | 5.26 centistokes |
| P H. | 7.7 - 8.7 |
Specification
| | |
| --- | --- |
| Application | Hose & spray nozzle |
| Range | 8 to 10 ft |
| Discharge Time | 18 to 20sec |
| Capacity | 2Kg |
| Warranty | 5 years |